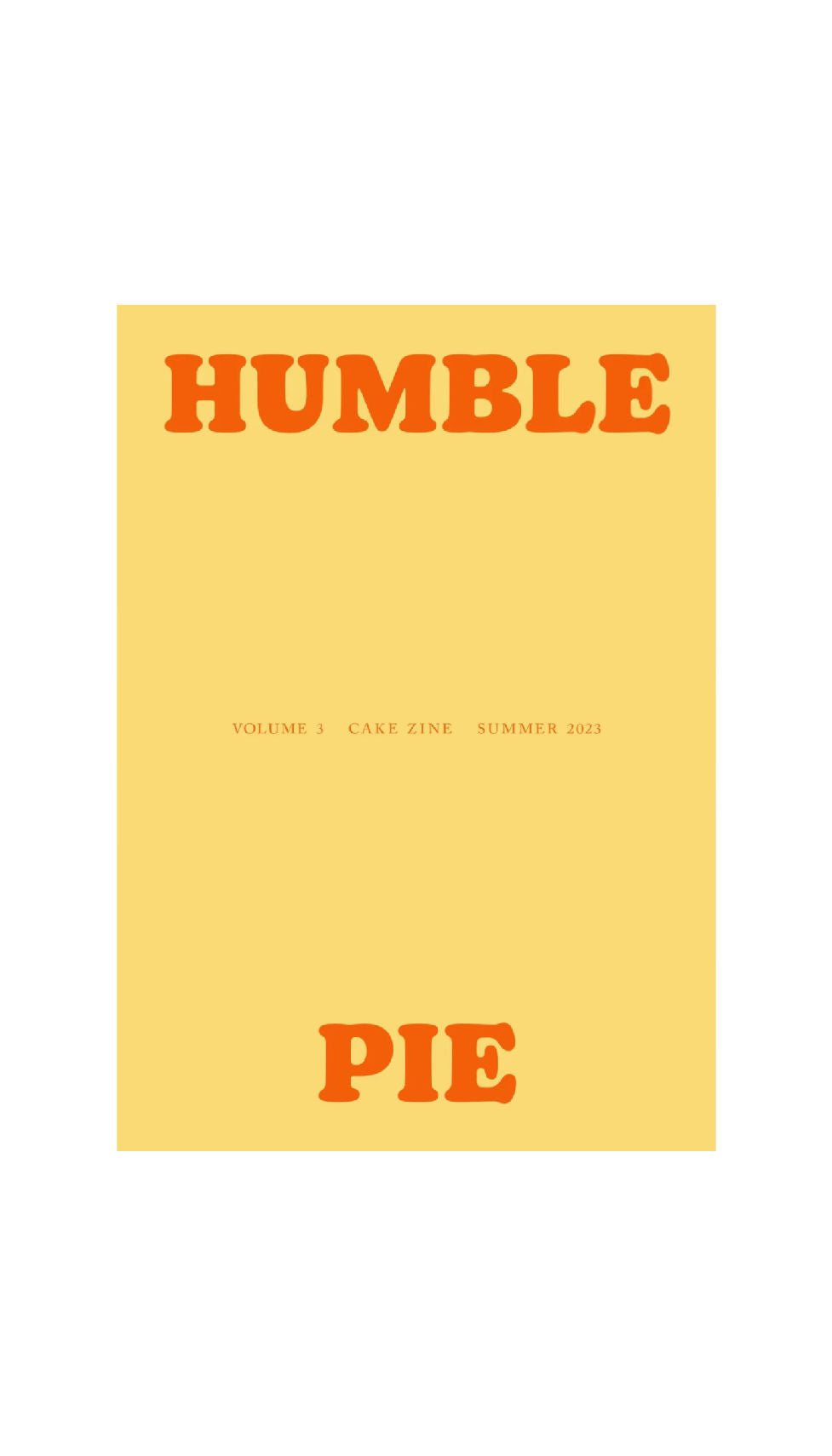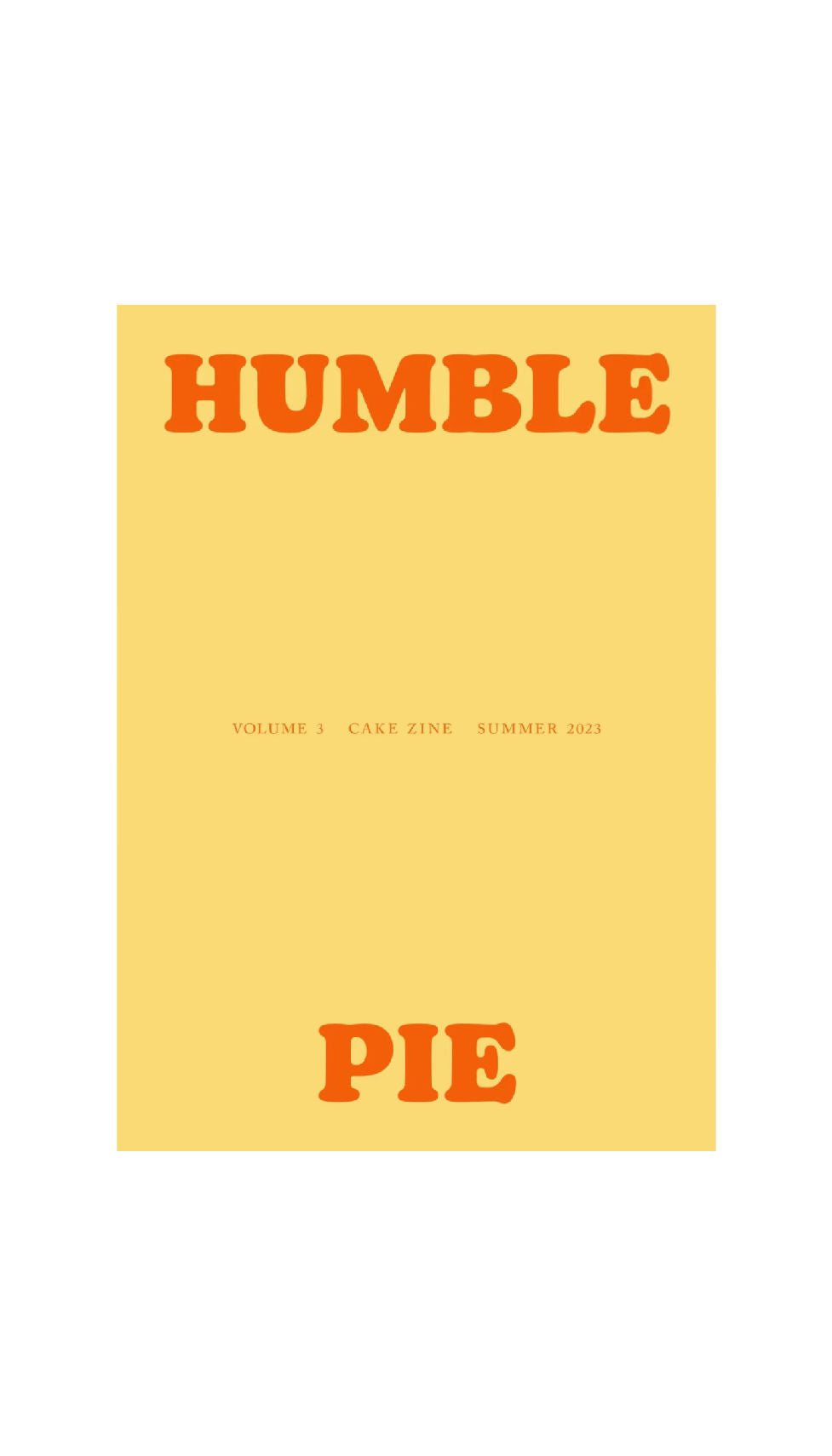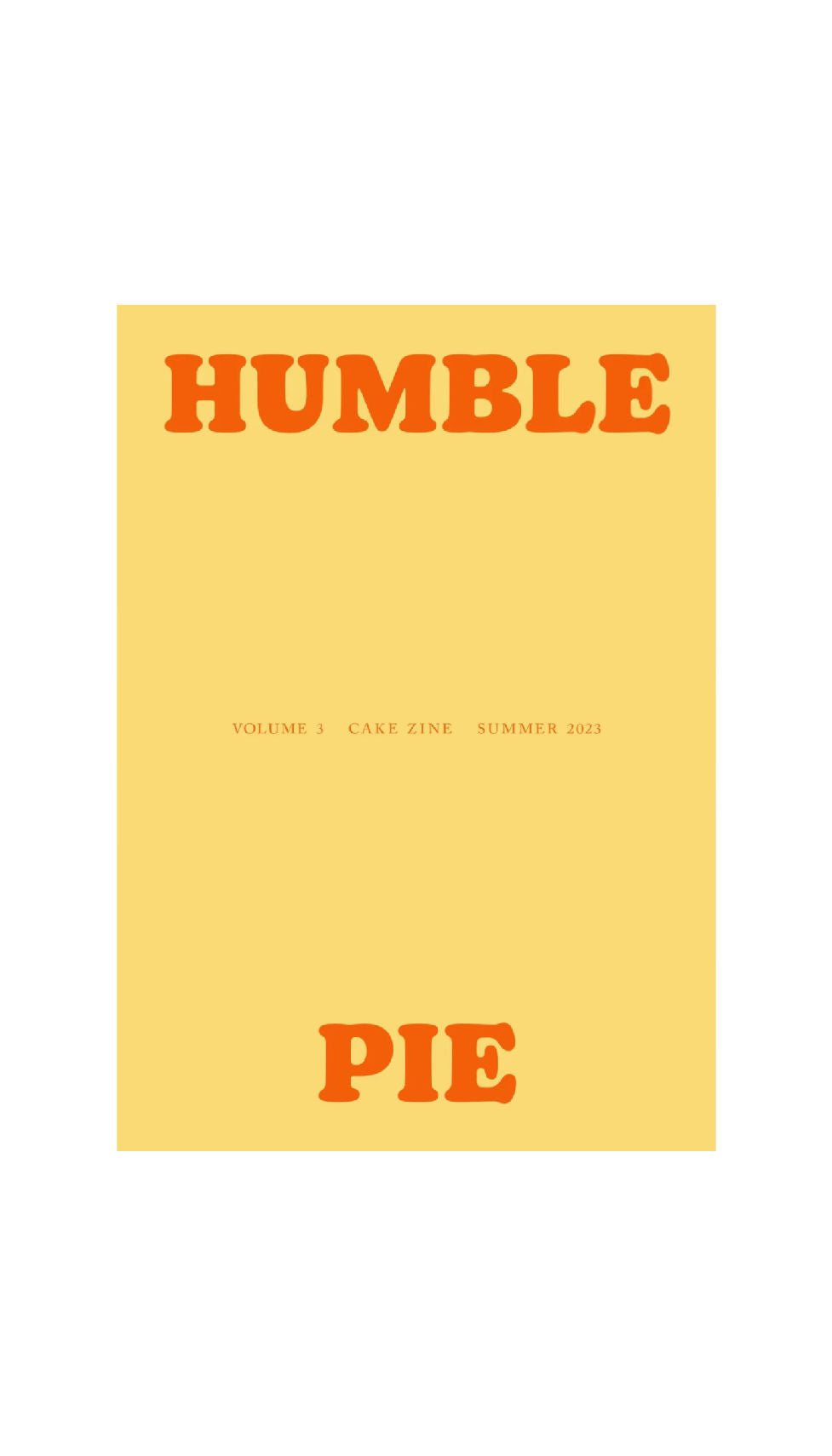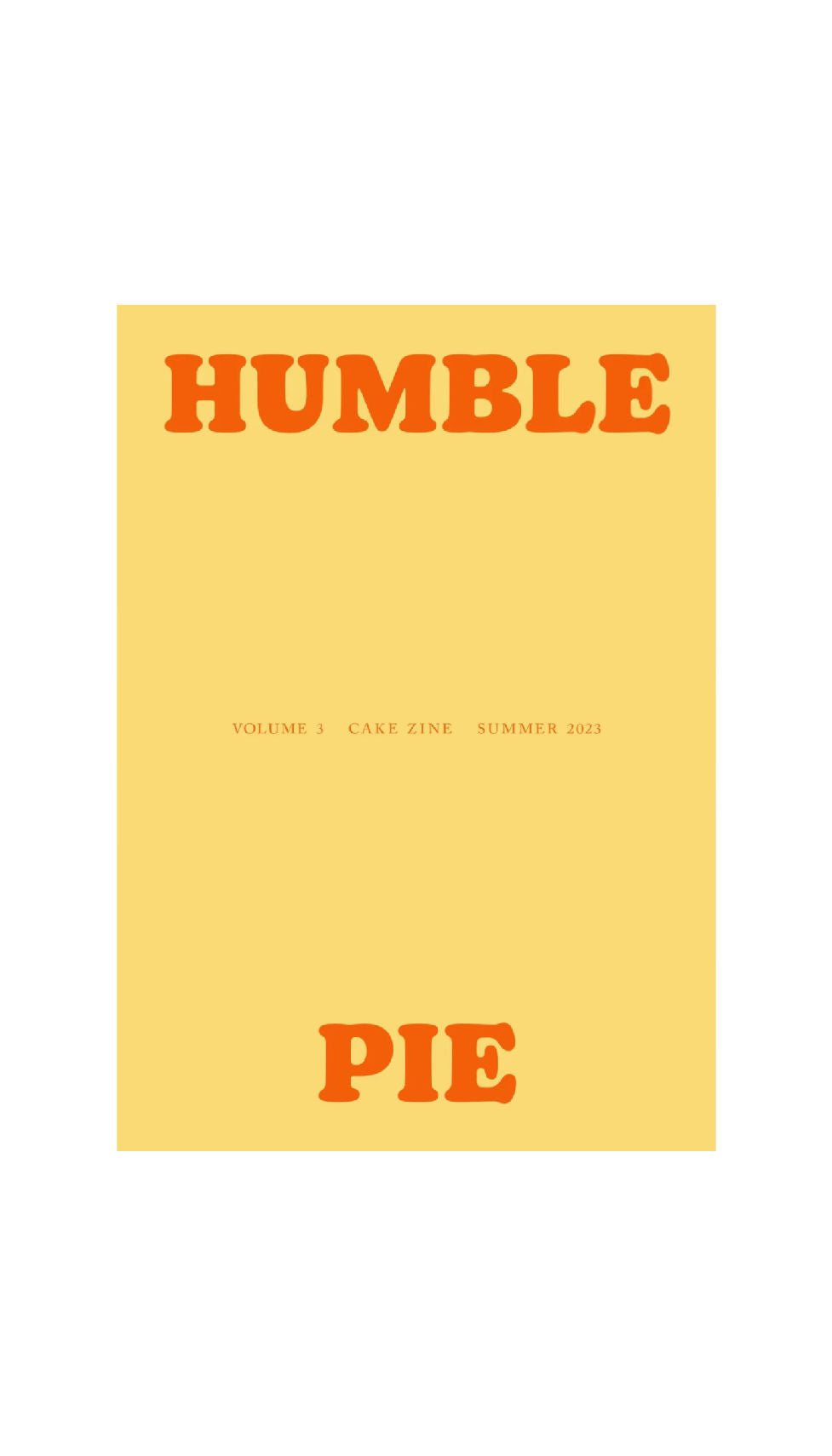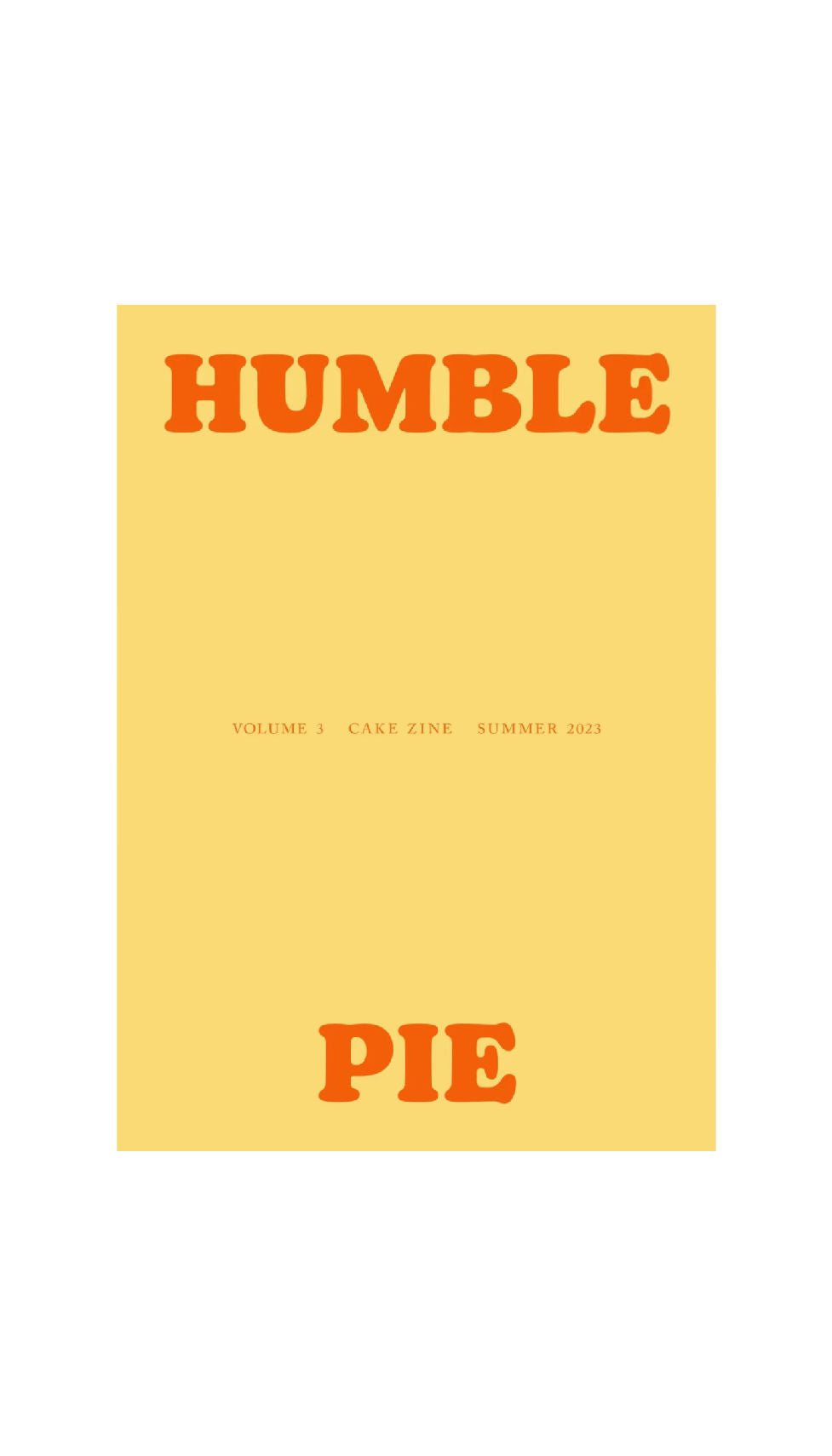 CAKE ZINE
Cake Zine is a hedonistic exploration of history, pop culture, literature, and art through dessert.
VOLUME 3 / HUMBLE PIE / SUMMER 2023
The third issue, Humble Pie, features broad interpretations of humiliation and piping hot servings of contrition. Over ninety-six pages of recipes, essays, illustrations, poems, fiction, and photographs, including:
A meditation on the limits of recipe-writing by Kate Lebo

An investigation into pie as a metaphor for rejection on

 

Love Island

 

by Olivia Crandall
A menu of pies to

 

to

 

humble you at any occasion from comedian Josh Gondelman

A quixotic quest to demystify the all-American origins of "Japanese Fruit Pie" by Elyse Inamine

Ha's Đặc Biệt's recipe for their pop-up mainstay: flaky, savory pâté chaud

Desperation pies—inspired by historic recipes popularized in times of scarcity—by Camilla Wynne, Stacey Mei Yan Fong, Kate Ray, Young Cho, and Samuel Grunebaum

A cautionary fable exploring the limitations of leniency from novelist Isle McElroy

Christina Chaey's recipe for a Beatrix Potter-inspired meat pie encased in flaky, cheddar pastry

Plus an incomplete but illustrious history of pieing, an interview with a DIY venue staying alive by serving pie to punks, an ode to the deep-fried gas station hand pie, and much more.
VOLUME 2 / WICKED CAKE / FALL 2002
The second issue, Wicked Cake, explores the sinister side of sweets, the horrors lurking beneath the buttercream. Over eighty pages of recipes, essays, poems, illustrations, and photographs, including:
Sohla El-Waylly's recipe for death by chocolate cake: a multilayered monstrosity of cocoa meringue, devil's food cake, and dangerous ganache shards.
A lyric essay on schadenfreude and the merits of baking your enemies into confections by Jami Nakamura Lin.
A contemplation of obsolescence in the age of DALL-E by baker Bronwen Wyatt.
A comic by Priscilla Frank on the true story of a sixteenth-century cantankerous "witch" whose buttery shrovetide cakes kindled her demise.
Very wicked cakes by Bodega Cakes, Frosted Hag, and Lauren Schofield, photographed in an abandoned church by Chelsea Kyle.
An exploration of sirutteok, a Korean rice cake used to banish evil spirits in shamanistic rituals, by Giaae Kwon.
Plus a peek inside Sylvia Plath's oven, an analysis of Courtney Love's desire to "be the girl with the most cake," a fiery condemnation of deepcakes in the age of "is it cake?" and a whole lot more.